I love Minecraft!
I haven't been able to draw comics due to being burned out and depressed as hell. But I have been able to do some pixel art, my old love. I did graphics for Minecraft, which I would like to share with you: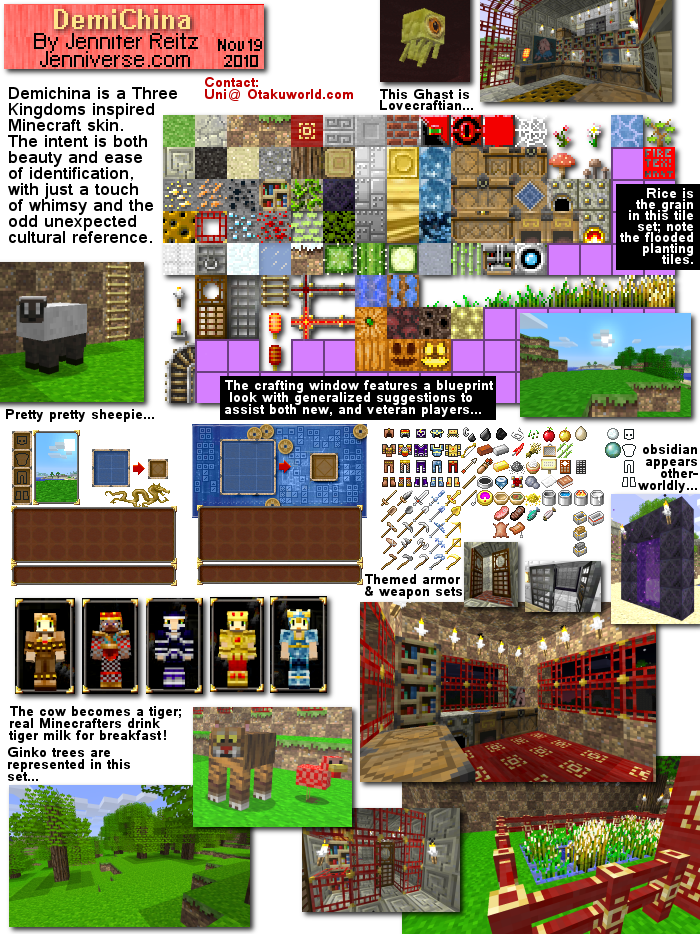 Here is the Minecraft Graphics Pack to download:
DEMICHINA 1.23 MB .ZIP file
How to install Pack:
Place the downloaded .zip file into the Minecraft "Texturepacks" folder.
The texturepacks folder can be located on your 'C', or main, drive under your user name in 'Appdata', then 'Roaming', then 'Minecraft'.
Like this
:
C:
Jennifer
Appdata
Roaming
.Minecraft
Texturepacks
By the way...
Lost any game saves lately? I can help!
In the .Minecraft folder is also where your gamesaves are; if you have ever 'lost' a world due to a crash, you can restore that world by copying over a few files from any other game save. Those files are found in the game saves, and they are:
Level.bak
Level.dat
Level.dat_old
Session - copy.lock
Session.lock
This will get you your missing world and save game back from oblivion. Just copy these over the top of the busted files in the broken game save. It is recommended that you do this only with a world of the same 'type' - don't use the files of a 'snow' world over a 'summer' world, unless you want to convert your old game into that season.