"To look at the quality of most girls' cartoons, it would seem that not one artist really cared about them. Not one designer, not one background painter, not one animator. Some of the more well-meaning, more expensive animated productions for girl audiences may look better, but the female characters have been so homogenized with old-fashioned "niceness" that they have no flaws and are unrelatable. They are so pretty, polite and perfect; there is no legitimate conflict and nothing exciting ever happens. In short, animated shows for little girls come across as boring. Stupid. Lame."

"This perception, more than anything, is what I am trying to change with My Little Pony."
-Lauren Faust, Executive Producer for My Little Pony: Friendship is Magic, from
My Little NON-Homophobic, NON-Racist, NON-Smart-Shaming Pony: A Rebuttal
Lauren Faust's vision for My Little Pony was radically different from what has come before. Earlier incarnations were thinly veiled commercials with little substance or merit of their own. But Faust committed herself to creating a show featuring strong, intelligent female leads. A show that would entertain not just children, but the parents watching with them. A show with genuinely clever humor and real stories, self-contained and worth watching on their own. Nobody, not Hasbro, not Faust, not even the Bronies themselves, were prepared for how successful her efforts would be.
Articles about My Little Pony: Friendship is Magic tend to come in two flavors: "WTF" articles written by people who haven't seen the show, and "I Can't Believe This is So Good" articles by people who have. That alone should tell you something. For my part, I find the show genuinely interesting, funny, and happy. But all this is just laying the groundwork. I know the score. Simply telling you the show is good won't get you to look it up on Youtube. For that, I have to bring out the stars. I have to introduce you to the characters. Let's start with the "Mane Six".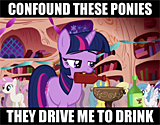 Twilight Sparkle
is the straight-woman of the series, and it's through her eyes that we are introduced to Equestria. She is a bookish, socially awkward, and much put-upon unicorn studying magic under the direct tutelage of Princess Celestia. Twilight unearths a prophecy warning of the imminent return of an evil Alicorn of Darkness. But when she tries to warn her mentor, Celestia tells her to stop spending so much time reading dusty old books and packs her off to Ponyville to oversee preparations for the Summer Sun Celebraition and to make some friends. Nevermind that the very idea of socializing makes Twilight's eye twitch. Twilight's favorite things are books, magic, Princess Celestia, astronomy, and peace and quiet. Twilight Sparkle is highly skeptical of supernatural phenomenon.

Pinkie Pie
is a special pony. And when I say special, I mean she eats a different sort of grass than the rest of the herd. Her talent and goal is bringing ponies together the only way she knows how: through parties! Pinkie is excitable, outgoing, energetic, and can be quite random. If you hear someone knocking on the fourth wall, it's probably Pinkie Pie. Her favorite things are parties, streamers, friends, baking, eating, practical jokes, parties, and ohmygodlookatthat! Pinkie Pie doesn't suffer from ADHD; she enjoys every minute of it.
Video Clip:
Pinkie and the Brain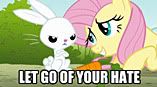 Fluttershy
is a timid, gentle, softspoken pony who tends to the animals living near her cottage by the Everfree Forest. Although normally girlish and retiring by nature, Fluttershy can push back when pressed, sometimes quite hard. She has been known to make a full-grown dragon cry. Fluttershy's favorite things are animals, sewing, and music. Her best friend is a rabbit named Angel. Angel is not a very nice bunny.

Ep. 22:
Can you spot the Lewis Carrol references?