I've just finished doing art for one of our forumites, Tychomonger, who bought the Unicorn Jelly hardback, and sent it to Eldenath for me to sign and... doodle a bit.
This isn't about my artwork for him, but rather what he sent me in the package with the book. He sent this: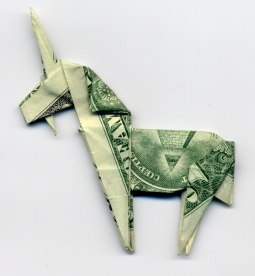 An origami he made.
Now this is
super cool
to me for several reasons. One, is that it is a very amazing bit of origami work.
Damn
. I am very amazed by origami, and I am utterly incapable of it, which makes it all the more impressive to me. It's magic, as far as I am concerned.
Secondly, I think it clear that he knows my love for my favorite SF movie, Blade Runner (directors cut only, please!). An origami unicorn could not be more perfect.
I wanted to share with you the awesomeness that is our Tychomonger, and his incredible skills.
Thank you, Tychomonger! Awesome, indeed.
Your book ships back to you on Monday. I dearly hope you will like the art I scattered through it. One note of interest - only the color plate was drawn using any pencil sketching - all the other artwork was done on the spot, in pen, with no chance of erasure, no margin for error whatsoever. Yes, I am insane.