The launch of Ika Takozushi will be delayed about a week, but I have a very good reason.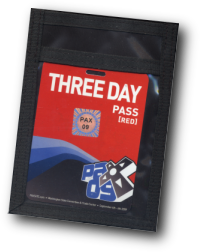 I am getting to go to PAX. The Penny Arcade Expo. Better than E3, or so I hear. First time ever.
Eldenath has apparently been arranging this for months in secret. She just sprung it on me tonight. I have always wanted to go to PAX.
This is... FARGING AWESOME!!! YAY!!!!
We both will be at PAX, so if you are going too, maybe you'll see us there. Please say hi!
Hoopla, Denton!