Because of my dimwitted response to a question about how much weight Mr. Pho could carry in strip 315, I thought it might be worthwhile to redeem myself with a casual talk about the nature of linovection in the Tryslmaistan cosmos.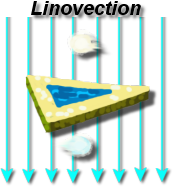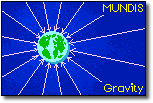 In our universe, Mundis, gravity is an all-pervasive force which causes matter to be attracted to other matter, pulling towards the center of a given mass.
One way that has been used to describe gravity is that it is the displacement caused by the energy density of mass affecting higher dimensional space, curving spacetime around mass within our universe.
While this is an inadequate description, especially in light of modern examinations of the subject, including but not limited to M-Theory, quantum gravity, and so on, it is useful here because it acts as a nice stepping stone to explaining how linovection works in Tryslmaistan.
In the Tryslmaistan cosmos, linovection takes the place of gravity. Linovection differs from gravity in many fundamental ways, not the least of which is that it does not pull matter towards mass, but rather acts as a universal monodirectional kinetic field: the entire universe has a cosmic 'down' and a cosmic, universal 'up'. This polarization of the entire universe is linovection.
To understand linovection, imagine that the spacetime of Tryslmaistan is a great block of plastic, and that this plastic has been stretched so that stress lines have appeared throughout it, stretch marks that all run parallel to each other, from top to bottom. If we imagine the gravity of Mundis as spacetime being distorted, curved, around mass, the vast rubber sheet of Mundis spacetime dimpled with pits sunken by weights put upon it (a common analogy) then we can imagine linovection as the polarization -like polarized sunglasses- of the plastic block of Tryslmaistan spacetime.
Linovection, like many laws within our own universe, such as the Strong and Weak nuclear forces, operates within limitations of scale; linovection is powerful at small scales, but very weak at large scales. The result is that vast and massive cohesive objects are nearly unaffected by linovection, one reason why triangular Worldplates hang in the sky, affected instead by other forces which take over at that scale. People and buildings are greatly affected, and experience a downward force nearly equivalent to the 1G field we know on earth, but as the scale of objects shrink to 1mm and below, linovection again fades to nearly nothing again. Linovective force affects matter, therefore, within a range bounded by the very small and the very large.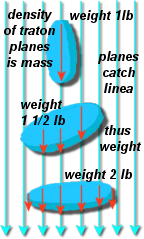 To understand how linovection interacts with matter and mass, imagine that space is filled with invisible lines of force, running from 'up' to 'down'. These etherial lines pass through all things, air and land and objects and yourself, and they are what confer the feeling of weight to all things.
The apparent weight of any object in Tryslmaistan is created by two main factors; the quantity of linea -those invisible lines of linovective force- that pass through the geometry of an object, and the number of planes that intercept these linea -interacting with them- within the tratons (the Tryslmaistan equivalent of atoms) that make up the matter that a given object is made out of. Different elemental tratons have different numbers of geometric planes of force, and this determines part of their effective 'weight' within a linovective field, as well as their effective mass.

You might think, then, that if 'weight' in Tryslmaistan is caused by the number of linea passing through the geometry of an object, that the orientation of an object matters, and would change apparent weight. This would be correct. In Tryslmaistan, the taller and thinner an object is, the less of a cross-section is exposed to the linea, and the lighter it is, to a point. The wider and flatter an object is, the heavier it becomes, because its cross-section is exposed to more linea, more lines of linovective force.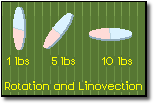 This strange quirk means that if you lived in Tryslmaistan, you would feel heavier lying down than standing up, a plate in your hand would feel heavier flat than on edge, and a vertical pile of boxes would weigh less, in general, than boxes laid out flat on a pallet.
Now this is not the whole story; apparent weight is also affected by the material that something is made out of, which is to say the chemical elements that make it up, and thus the tratonic planes of those elements, but in general, overall, this basic rule of linovection -that the universe has a polarized force that is affected by cross-section- holds in all cases.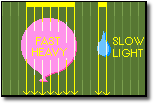 Now this means that in Tryslmaistan, some strange things happen that might surprise a visitor from our universe; a balloon would fall like a rock, and a droplet of water would take ages to fall to the ground, and so it is that rain falls very slowly there, and balloons are no different than balls or spheres of wood, and none can be made to float. Ballooning is impossible in Tryslmaistan.
In theory
, if a dense enough gas of the right elements were made, and a light enough balloon and gas within that balloon places within a tank of that gas, under the right laboratory conditions the balloon might be made to float... but this would be an extraordinary thing, at the fringes of physical science, not something for everyday use. In any normal situation, linovection would tend to trump atmospheric buoyancy.
The closest thing would be, of course, a boat, which can still float in Tryslmaistan, supported by the cohesion and density of water; this still works there, though not properly a balloon.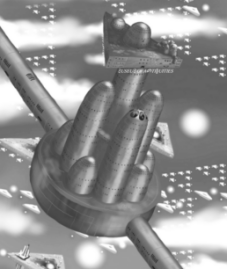 The fact that tall is light and squat is heavy has a direct bearing on everything from life to engineering; this is the reason that Jellese buildings are all tall tower-like shapes, or strong domes, these are the shapes best suited for Tryslmaistan construction. Humans, for a while, fought this and tried to make earth-like buildings, but in the end they followed the local physical laws, and we see this in any high-tech time or splay, with tall, tower-like buildings dominating the cityscape.
Even in simpler times and places within Tryslmaistan, only smaller structures, such as houses, or few-story buildings, are built in earthly manner, any tall buildings are inevitably thinner than they are wide. This rule is so powerful, in fact, that in the very far future of Tryslmaistan, towers can be built to truly incredible heights, kilometers in fact, very easily. This is why we see distant Worldplates with thin towers upon them that reach far above the extent of the land; this is not an artifact of my illustration, this is a correct representation of the monumental scale of Humanojellese (and beyond) architecture! There are buildings, in that future time, that extend upwards to a length greater than the width of the Worldplate upon which they stand. One can only imagine the view!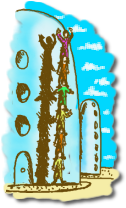 From time to time, a silly stunt that has been done is to have people stand atop each other's shoulders, as we might see in a circus act on earth, but taken to ridiculous extremes. It is not unlikely to have dozens or more people thus stacked, a fearful height, none of them suffering overly unduly under the load (though to be sure the bottom-most participants do suffer and must be strong) compared to the impossibility of such a feat here on earth under the laws of Mundis.
Naturally enough, this stunt is not without risk; falling is very much an issue, as is the fact that weight will eventually overcome even the strongest at the bottom, leading to a truly terrible tragedy if the situation becomes impossible. But humans being human regardless of the cosmos which they inhabit, this kind of tomfoolery is only to be expected, really.
And this brings us, finally, back to the issue of whether or not Mr. Pho could haul Kaye's body, with the metal H-Hold inside of it, as well as the two electanic packs, all by himself. And the answer is yes, but that he must also be strong, because while the correct method of carrying can do much to obviate any issue of weight, the fact also is that metal weighs more -even in linovection- than does flesh, or fabric, and that machinery is heavy in either universe, ours or theirs.
Pho can lift more, if correctly angled, in Tryslmaistan than an equivalent man could in Mundis, but to see him carry Kaye thus does suggest that his physical prowess is not inconsequential.
I hope you have enjoyed our little exploration of linovection.
(And I hope I have not screwed up in doing it!)