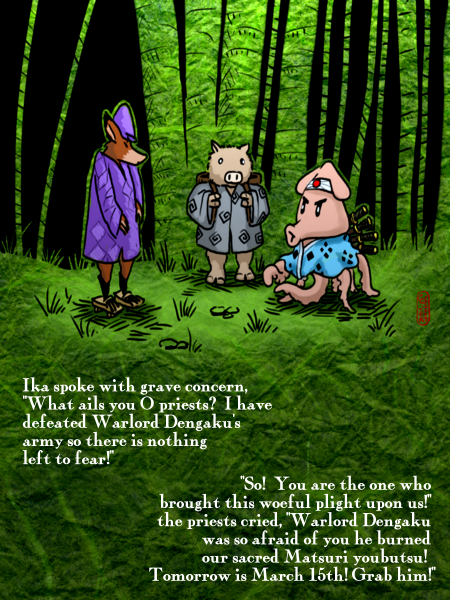 This is a pre-production page test for the upcoming 'The Legend Of Ika Takozushi', the story I will immediately start after completing 'To Save Her' in a few months from now.
What I would like you to do is to look over this test page and provide what feedback you can. Nothing is set in concrete yet, so your input could have an enormous impact on the eventual work that will be created.
Consider the overall look, and layout, the method of illustration and coloration, the linework especially; also consider the text, the way it is placed, and the overall style, look, and feel.
For instance, I am definitely not happy with the font on the page - I think we can agree that is not the font to use. Perhaps you can select a better font, or suggest what kind of font might best suit a story of a very Zen Samurai Squidopus with an earnest boar as a disciple?
The most basic style that I have decided on is that the backgrounds will all be made of fine and exotic unryu paper - indeed the look of the forums is a direct outgrowth of the Ika Takozushi project as it develops. The same backgrounds that make the forum are a small sample of my collection of imported paper which I intend to use more or less in the manner seen here. In this page I have experimented with two new aspects; special effect lighting on the paper background, and deep contrast in the line art. This is rather different than the much lighter, more watercolor-like Takozushi images I have tried, and previously presented to you. Any thoughts?
I am also concerned about overall composition. Should the characters be larger? Take up more of the page, should the camera angles be much closer, or is a wide background a good idea? Are there other comics that you think offer hints as to how I should do Takozushi? What could make this basic concept truly shine?
Your ideas and thoughts and feedback can help me make the best possible Takozushi I can make.