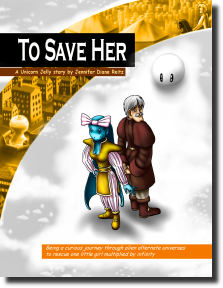 The
To Save Her
book is now available and In Print. It is only
$14.82
from LULU.com and is a beautiful book. This one is paperback, because the print job is markedly better for black and white in paperback, we have found. Really nice printing in the paperback version, with really nice paper. It's also nicely inexpensive!
The book version has lots of spot art, additional images, and much more.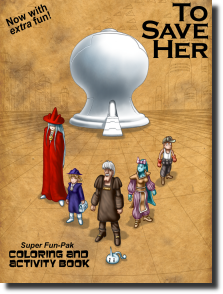 Also, a treat - it is possible to get the coloring book AS A COLORING BOOK! We got it down to only
$6.79
, and it is full size and just beautiful. Yes, the coloring book is part of the full To Save Her story, but just think: IT IS A REAL COLORING BOOK as well! That you can color in without damaging your main book! It's amazing! Just amazing!
Well, I think so, anyway.
These are the best, least expensive works I have ever put out: what I think is my best story, with my best art, and it's really affordable. So I am feeling pretty happy about it all.
You can get these at the
Jenniverse Store
, located
HERE!