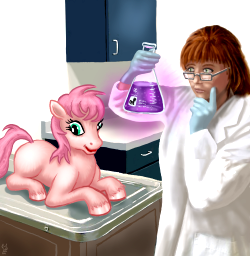 For the past many months, under the pen-name of
'Chatoyance'
, I have been very busy writing the best work of my entire life. I have created over 700,000 words, all within the
Conversion Bureau
mythos.
This is not simple fan-fiction, though it does borrow some elements of the universe of My Little Pony: Friendship Is Magic. These are hard-core, science fiction literary stories that explore the nature of identity and self, set in a desperately realistic near future earth facing obliteration by an expanding pocket cosmos.
Originally written on
http://www.fimfiction.net/
, I am gradually moving them to Jenniverse.com to preserve them, and to make them available from another source.
These are extraordinary tales, spun from a humble source into something unique.
Jenniverse Link:
http://jenniverse.com/tcb%20indexpage.html
My full set of stories on FimFiction itself:
http://www.fimfiction.net/index.php?view=category&user=1291